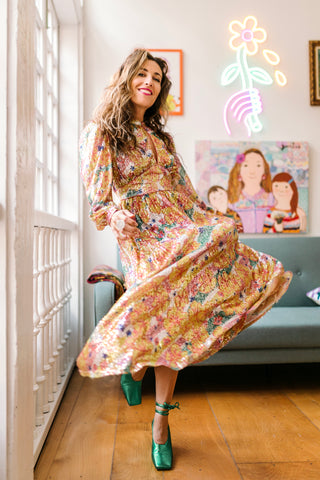 celia b
Founded in 2012, Celia B is the namesake label of Spanish-bred Celia Bernardo. Above all else, Celia B is an ode to freedom, a celebration of the joy of life in all its forms. We design fun, statement and timeless pieces, from Spain with love. 
With a passion for textiles, a slight obsession over quality and a sensibility for craftsmanship, the brand is strongly committed to creating long lasting clothes for your wardrobe that break the molds defined by mainstream fashion. We understand clothing to be more than just fabric, it is an extension of your identity, and place the relationship you build with your clothes at the very center of our efforts. We encourage you to shine brightly, live boldly and celebrate life.
Our pieces make a statement about you as much as it's a statement about us. Made for women who take the world by storm. In a world which is increasingly becoming monochromatic, where colors are losing vibrancy and black and white are chosen above the beauty of colors, CELIA B stands out as an activist of color. No matter if it is in the depths of winter, or the sunniest of springs, our clothes aim to spark joy by making your wardrobe brighter.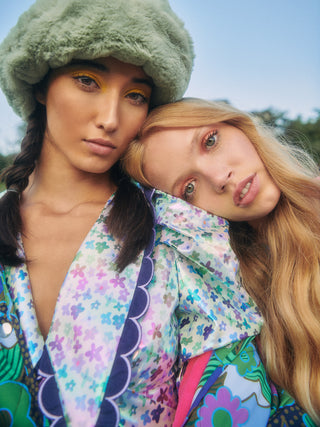 our manifesto
B is so much more than just a letter, B is the very essence of our brand. Be it through our colorful prints, unique designs or beautifully tailored items, we exist with the sole purpose of igniting a spark within you. We stand for all women and we invite you to:
B Bold, when the world is asking you to follow.
B Brave, and let courage lead you to greatness.
B Beautiful, inside and out, and radiate confidence wherever you go.
B Brilliant, and challenge the Status Quo, because brilliance thrives in breaking boundaries.
B Balanced, and find peace in the midst of chaos.
B Bright and allow your curiosity to flourish.
We invite you to B all of these things, because that is who we are and the values that we believe in.
Let us paint your world with colors, and bring us along through your journey.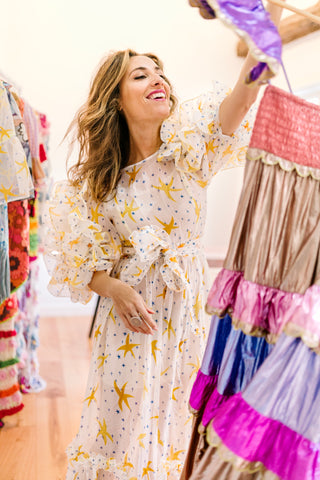 ABOUT CELIA BERNARDO
Celia Bernardo is the founder and driving force behind Celia B. Channelling her love for travel and her passion for handcrafted pieces, she collects textiles, patterns and inspiration from all over the world: from the jungles and beaches of Latin America to the Moroccan medinas. She is on a mission to bring joy and laughter to all who wear her designs by seamlessly blending traditional motifs with exaggerated textures, creating explosions of print and color to bring joy to your wardrobe.
After studying Advertising & PR in Madrid, and Fashion Communication in Milan, Celia escaped to Ibiza where she designed and sold jewellery. Then she spent the next ten years working with renowned brands in the fashion industry. But her love of travel, combined with her appreciation of the weird and wonderful possibilities of color, wool and contrast drove her desire to launch her life's dream.
In 2012, Celia B was born in Shanghai, where she lived for almost a decade. Since its beginning, her designs have gained a dedicated following and support from retailers and individuals across the US, Europe and Asia. Her designs have travelled the world and been worn by all those who wish to feel special all over the world.